Tesla Plates
These plates are special anodized aluminum plates that have been ionized and reportedly tap into the Tesla-Schumann field of energy based on Tesla's Free Energy principle. When food or water is placed over these plates for fifteen minutes, it is reported that the molecular structure of water is changed, and it becomes beneficial to your body. Water's hydrogen bonding has been shown to change when exposed to alpha energies. The violet colored plates are said to emit positive energy and affect certain objects placed on them.
The atomic structure of Purple Plates has been altered, allowing the atoms and electrons of the aluminum to resonate in tune with the basic energy that causes the particles of every atom and molecule to be in constant vibration. Once the structure of the atoms of the aluminum has been altered, they will remain in that condition- possibly indefinitely. The plates create a positive energy field around themselves that will penetrate any material substance by osmosis. This energy is said to be beneficial to all life, plant, and animal or human.
Large Purple Plate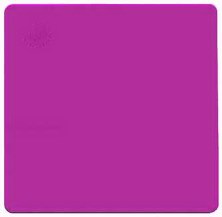 Small Purple Plate

Price: 20.00 USD

Angel Pendant
Price: 11.00 USD

FDA Disclaimer
The statements and products shown on this website have not been evaluated by the US Food and Drug Administration. These products are not intended to diagnose, treat, cure or prevent any disease.
Those seeking treatment for a specific disease should consult a qualified integrative physician prior to using our products if possible.