You the Healer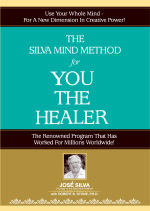 You the Healer
by Jose Silva and Robert B. Stone, Ph.D.
This book by Jose Silva and Robert B. Stone, Ph.D., guides you step-by-step to learn to apply the Silva Method mental techniques to maintain – and to regain if necessary – perfect health. One of the best written books about the Silva Method, and required reading for everyone who wants to be healthy, happy, and successful.
Deprogramming negativity to facilitate wellness is the underlying principle of the Silva Method. In other words, by changing your mind, you can change your health. Learn how to use your mind to heal your body. There are thousands of inspiring, success stories that serve as testimony to the effectiveness of the Silva Method to overcome health problems and to gain the good health that is so vital to a happy life.
263 Pages.